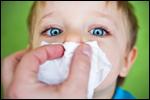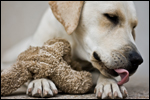 BENEFITS INCLUDE:
Destroy mold
Relieve allergy symptoms
Control microbial growth
Maintain clean coils
Cleaner air for asthma sufferers
Destroy bacteria and viruses
Natural, generates no pollution and does not use potentially harmful chemicals
Odor reduction
Reduce HVAC maintenance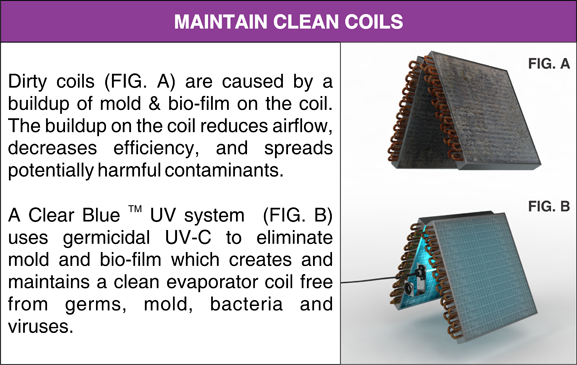 Installation of a residential UV system from Universal UV Solutions™ will improve indoor air quality (IAQ) by removing bacteria, odors, viruses and allergens from the central air system.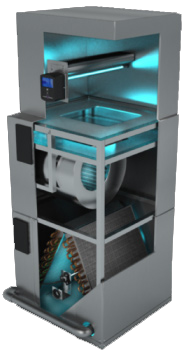 The Clear Blue® units create pure air, naturally and add an additional cleaning element to a standard filtration system. Clear Blue® does this by using the natural elements of Ultra Violet (UV) light that are also emitted by the sun. Through innovative, safe and environmentally friendly practices, these UV air treatment systems cleanse residential air without the use of harmful ozone. Clear Blue® is designed to meet the growing consumer demand for clean air within the home.

Universal UV Solutions'™ Clear Blue® products can be installed and maintained in furnaces by your local contractor. Each separate unit is designed to provide optimum UV treatment of up to 2,000 square feet, so you can be rest assured that you are breathing the finest quality air throughout your home.

Other UV treatment products might be costly, and ultimately ineffective. However, the Universal UV Solutions™ Clear Blue® line contains a UV lamp is not only efficient, but is also extremely cost effective as a great addition to your filtration system.
Rest Easy Breathing Better Air
The air quality inside your home may not be as clean as you think. Indoor air is constantly being recirculated through your heating and cooling system. Over time, the air becomes stagnant and serves as a breeding ground for yeast, mold and bacteria. These airborne microorganisms can cause a host of health problems, including allergies, asthma and upper respiratory infections.
Since you spend a good amount of time in your home, you want the air that you breathe to be as clean and pure as possible. About 80% of the particle matter in your air is actually dead skin cells. The remaining 20% is made up of over 350 different contaminants, such as smoke, viruses, mold spores, fungi, pet dander and chemical gases from carpet, furniture, or cleaning products.
Effects of Breathing Bad Air
Continually breathing bad air can cause a number of unpleasant and even dangerous health issues.
Headaches
Dizziness
Sneezing
Coughing
Dry Eyes
Asthma Attacks
Ear Infections
Allergies
Irritability
Depression
Sinus Issues
Fatigue
Nausea
Chronic
Respiratory
Conditions
Benefits of a Whole House Air Purifier
Ultraviolet light has the precise amount of energy needed to break apart organic molecular bonds. What does this mean for you? As the harmful germs and tiny organisms pass through the UV light of your whole house air purifier, their molecular structure is broken down in such a way that results in genetic damage, preventing them from reproducing.
UV light has this destructive effect on microorganisms and harmful pathogens, such as fungi, viruses, bacteria and other invisible invaders. It cleans your air much more effectively than other ordinary air filters on the market today.
A whole house air purifier runs through your central air conditioning and heating unit, disinfecting and sterilizing the air that passes through your vents. It also helps your system to function more efficiently by ridding it of mold, which increases the system's workload.
You can rest easy knowing that the air you breathe is fresh, clean and pure.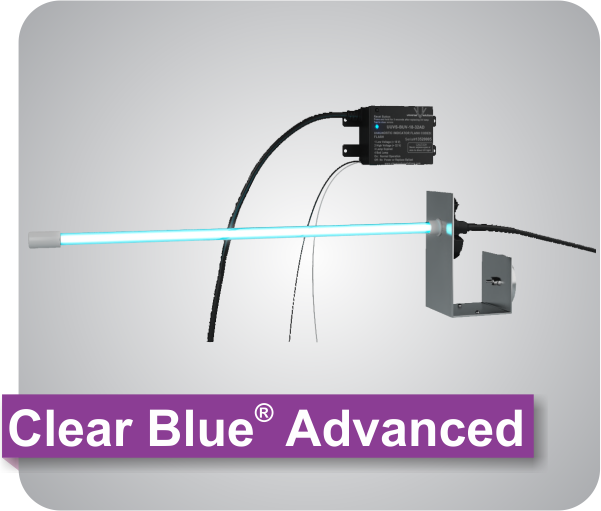 Part Number: UUVS-CBA
Input:
18-32VAC, 50/60Hz
Clear Blue® Advanced Features

16" UV Germicidal Coil Cleaner
Destroy mold and their associated odors
Improve energy effeciency
Various mounting scenarios
Lifetime ballast warranty
1 year UV lamp warranty
Fully enclosed aluminum ballast housing
Over & under voltage indication
Ballast & lamp status indication
Supplied with 4 ft wires*
*Optional Remote Kit available up to 25ft
Performance

Electronic ballast rapid start
Type 1 Class A sound rating
18-32 VAC, 50/60 Hz. NPF
4 foot long wire terminated on 4P Gaynor
Standard socket can be extended up to 25 feet with optional remote kit.
Dimensions

4.5" L x 2.25" H x 1.25" D (11.43cm X 5.72cm x 3.18cm)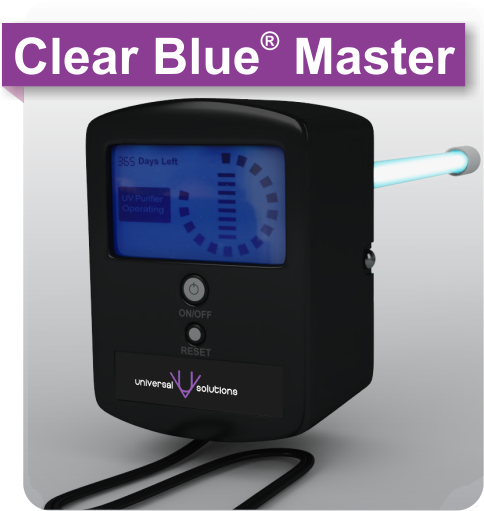 Part Number: UUVS-CBM
Input:
24V & 110V step-down transformer included
Clear Blue® Master Features

16" UV Germicidal Coil Cleaner
Destroy mold and their associated odors
Improve energy effeciency
Various mounting scenarios
Lifetime ballast warranty
1 year UV lamp warranty
3" LCD-lit display provides:
Real-time system status
Days left until next lamp replacement
Countdown purifier animation
Lamp out & ballast out visual alarm
Contractor call-back indicator
Dimensions

3.5" W x 4.5" H x 2.75" D (8.89cm X 11.43cm x 7.15cm)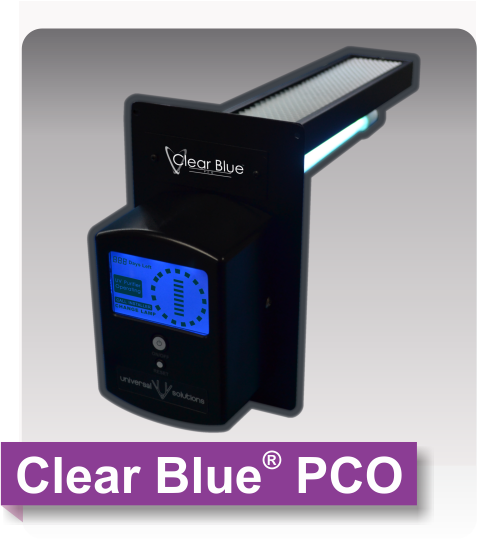 Part Number: UUVS-PCO
Input:
24V & 110V step-down transformer included
Clear Blue® PCO Features

16" UV Germicidal Coil Cleaner
Photocatalytic Oxidation filter captures and destroys odors
Destroy mold, bacteria and viruses
Improve energy effeciency
Various mounting scenarios
Lifetime ballast warranty
1 year UV lamp warranty
3" LCD-lit display provides:
Real-time system status
Days left until next lamp replacement
Countdown purifier animation
Lamp out & ballast out visual alarm
Contractor call-back indicator
Dimensions

3.5" W x 4.5" H x 2.75" D (8.89cm X 11.43cm x 7.15cm)
PCO Filter: 2.5" W x 1" H x 14" L (6.35cm X 2.54cm x 35.56cm)